August has been an exciting month here on the Cash for Cars Vancouver scene.
Mainly because of the very exciting looking automobiles we had a chance to buy.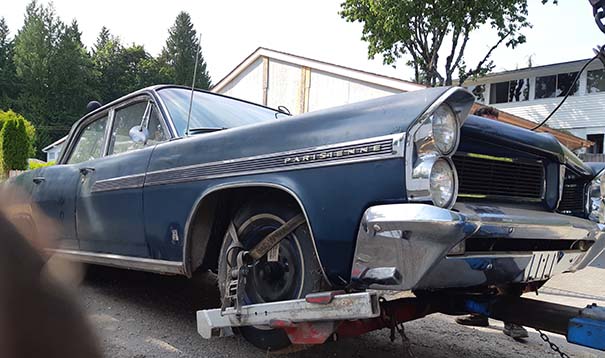 The first was a 1965 Pontiac Parisienne.
Talk about your classic muscle car!
This full-size rear-wheel drive vehicle was sold by Pontiac on the GM B platform in Canada starting in 1958 and continuing through until 1986.
Across the line in the United States, it was sold from 1983 to 1986. You may not know this, but in Australia, New Zealand and South Africa, there were right-hand drive model Parisiennes that were locally assembled until 1969.
Throughout the vast majority of its production, the Parisienne in Canada was just about identical – at least mechanically – to the Chevrolet Impala and the Chevy Caprice in the United States.
They continued to make a station wagon version of the Parisienne until 1989, but its badge was named the Safari.
During the '60s and '70s in Canada, the Parisienne from Pontiac was one of the our most popular of full-size cars. In terms of sales ranking, the top selling model in the full-size ballpark during that era was the Chevy Impala. The Ford Galaxie came in second, and the Parisienne was a close third.
The one we picked up recently had seen better days, and its former owner was a bit sad to see it go, but – as they say – time marches on. And they were pleased to get paid top dollar for it on a "cash for junk cars" basis.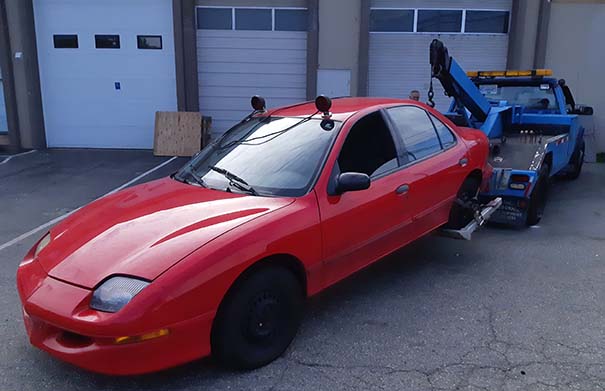 A much more modern automobile, but still very much a muscle car in its own right was this very sexy looking red 1997 model Pontiac Sunfire that we also were asked to take away this month.
General Motors introduced the compact Sunfire as a replacement for their earlier Sunbird in 1995. It had a 2.2 litre engine (134 cubic inch) that delivered 120 horsepower and 130 foot-pounds of torque.
How To Get More Cash For Your Old Car
Do you have an old vehicle that you don't want to keep anymore? Maybe it quit running and you are tired of its unreliability. Maybe fixing it up will cost more money than your rusty beater is worth. For whatever the reason, it's easy to find the best deal on a "scrap car removal" basis. Just pick up your phone and…
Call or Text 604-779-6397
Joe will ask you a few easy questions, like:
What's the year, make and model of your old car

Will it start

Can it be driven

How many kilometers on the odometer

What's wrong with it – how come you want to get rid of it

Where is it located now (in a yard, on the street, in an underground parkade, etc.)

Do you have proof of ownership (ICBC papers)

Do you have the keys

When can he come by, pay you cash, and take it away
Still not convinced?
Take a look at what some of Joe's previous customers have had to say about how they liked doing business with him…
What Our Cash For Scrap Cars Customers Say
Great service! Located in Port Coquitlam these guys give great value for scrap cars. Quick to respond and even faster at collecting your car. Most places usually take a day but these guys only took an hour! Would highly recommend!
– Jon
Great guy, Great service my car broke down he was there quick to pick it up and gave me a cash right there. Even set me up with a new car. Excellence service definitely do business again
– Kylor ThompsonJoe's the man. Fast, efficient, super kind and very easy to deal with. A jack of all trades that I look forward to dealing with in the future. Highly recommend!!!
– Devin Samaratunga
Why put it off any longer? Call Joe now and have fast cash in your pocket soon…
Call or Text 604-779-6397