How To Get The Most Cash For Scrap Cars Vancouver
Looking to get the most cash for your scrap car or truck? Here are a few more old vehicles that Joe recently did towing jobs on. And you can be sure that the owners were very happy when Joe paid them top dollar for taking them off their hands.
The first is a fairly decent looking 1998 Chevrolet 1500 pickup truck that was located in Port Moody.
Unfortunately it was in rough shape because its fuel lines were clogged, and the repair costs made it not worth fixing.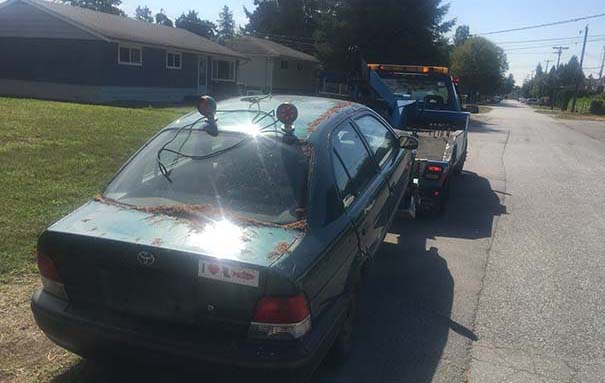 The second scrap car removal Joe did that we want to tell you about is a green 1999 Toyota Tercel that he took away in Vancouver. In addition to being more than 22 years old, this compact vehicle also had racked up lots and lots of kilometers, and the owner just thought it was time that the car should be recycled. And that is exactly what Joe did – after paying a nice cash price to the Tercel's owner.
Three Good Reasons Why You Should Call Joe for Your Scrap Car Removal
Fast, Courteous Service – Joe understands that your time is important, and he respects your need for convenience. So he pledges to do his best to set up the most convenient appointment for him to come evaluate your vehicle, do all the necessary paperwork, and take it off your hands in a timely manner.
More Cash Than The Competition – If you want to get the most money for your unwanted vehicle, then you definitely want to talk to Joe.  He has earned a solid reputation over the years for beating the best prices his competitors are willing to pay. So if you want the most cash for your car, don't settle for less than the top cash Joe will reward you with.
Joe Is Just A Nice Guy To Do Business With – If you do a comparison by phoning one of the other scrap car removal companies in the Greater Vancouver area, and then talk to Joe, you will instantly know what I mean. But don't take my word for it. Check it out yourself…
Call or Text: 604-779-6397
A little while later, Joe was called to Aldergrove in order to pick up and tow away this red 2003 Acura TL. The car's automatic transmission had blown and it could no longer be driven. It's a distance of more than 50 kilometers to Aldergrove from Vancouver, but that's not a problem for Joe and his Vancouver Scrap Car Removal team. Wherever you may be located in the GVRD, Joe is happy to assist you with your cash for scrap cars situation.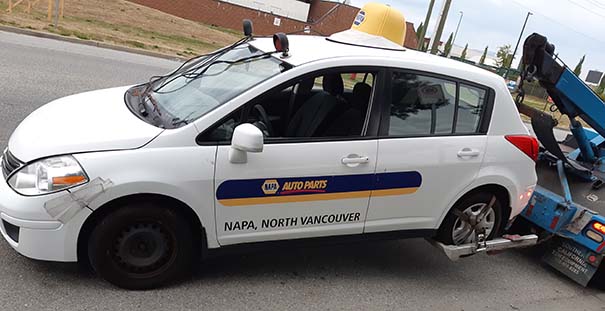 In North Vancouver, Joe went for a 2002 Nissan Versa that has been driven commercially for delivering NAPA auto parts. It had high kilometers as well as a worn out brake system. We are not sure whether the owner called any other scrap car recycling companies that offer cash for old cars deals, but if they did, we are not surprised that they ultimately decided to work with Joe. It's a story we keep hearing over and over, and it goes something like this…
"I did a comparison. I called other junk auto towing and removal places, but I liked Joe best. Plus, he offered me more money than any of the other guys did."
Do you have an old car or truck you need taken away? You'll get the best deal and the best service if you deal with Joe.
Call or Text: 604-779-6397