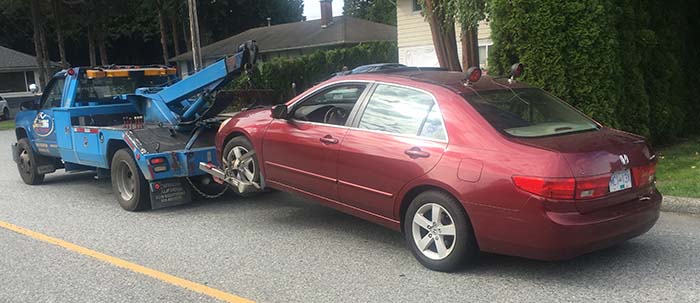 Cash For Scrap Cars New Westminster – Honda Accord
This red, four-door 2002 Honda Accord was not in too bad condition considering the fact that it's a vehicle that's nearly 20 years old. But the car was not running very well due to an issue with the timing belt, and the owner did not want to have to deal with it. So instead, they got in touch with Joe, and he solved their unwanted car problem quickly. They were paid fast cash for their car, and Joe did all the work and hauled it away.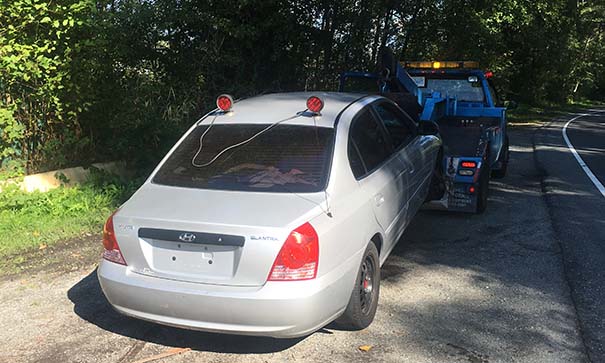 Hyundai Elantra Scrap Car Removal Coquitlam
This 4-door, 2004 Hyundai

Elantra

looks pretty good, doesn't it? Nevertheless, it was a problem vehicle and the owner was fed up having to deal with it. They didn't know what the problem was, but they just wanted to get rid of it.  So they did the smart thing and made the call…
Call or Text: 604-779-6397
Joe came out to their residence in Coquitlam with his powerful, blue tow truck. He explained to them how easy the process was, did all the required legal paperwork, and ended up with another happy, satisfied customer. Not only did they get shed of their burdensome compact car, they also ended up with a nice pocketbook full of hundred dollar bills, thanks to the generous settlement that the Vancouver Scrap Car Removal team was able to give them. Oh and by the way, the issue was the ignition coil.
Some Winter Car Care Tips
The cold weather impacts your car even in the relatively mild climate of British Columbia's Lower Mainland. If you would rather keep your vehicle in good shape rather than have to call Joe to tow it away, then here are some useful tips about car care in winter weather. In addition to making driving a lot more hazardous because of ice and also snow, extreme winter season weather condition can be difficult, specifically on older cars.
As winter season techniques take you automobile to your reliable auto mechanic as well as have him inspect the adhering to products: battery, wipers, antifreeze levels, heating system, brakes, defroster.
You'll want to make certain your battery is totally charged as cold weather starting is a hefty drain on your battery. You'll wish to ensure that your windscreen wipers are in good condition as they'll get a great deal of use cleaning snow off, and also, ensure you have a lot of windshield washing machine fluid in the tank as well as lug an additional gallon in your automobile. Your windscreen washer fluid will get consumed rapidly maintaining salt off the windshield. You will certainly wish to ensure that your antifreeze is at proper degrees. Antifreeze can avoid cold of your engine to regarding 30 levels below zero. It should be changed every two years or sooner. Have your heating system inspected, this will include your defroster, which you'll actually require during the winter.
See to it you have excellent winter season tires on your car. If you stay in a location where you obtain a good amount of snowfall you might wish to make a seasonal change from all season to snow tires. All season radials simply do not give you the exact same performance in snow as well as ice that devoted snow tires do.
There are points that you should keep in your vehicle during the winter season. Snow scrape, de-icer, blankets, additional hat as well as mittens, little snow shovel, sand (to aid with grip), boots. At all times you must have a little first aid package, booster cables, little devices such as screwdriver, wrench and also pliers a flashlight with additional batteries, added water. It's also a good idea to keep a container of de-icer in your house so you'll be able to get into your auto in case the door locks are frozen.

Keep in mind prior to leaving house to ensure your automobile is totally cleaned off. Clear all snow and also ice from your hood, roofing system, trunk and also side. Make sure your fronts lights and tail lights are clearly visible. Drive more slowly. The published rate restrictions are for optimal driving problems. When driving leave plenty of stopping room in between you and the vehicle in front of you. You may require to leave even more distance in icy conditions. Make any turns slowly. Brake slowly.
By following these pointers above you can have a risk-free winter season driving period.
Want Fast Cash For Your Junk Car?  Call or Text: 604-779-6397