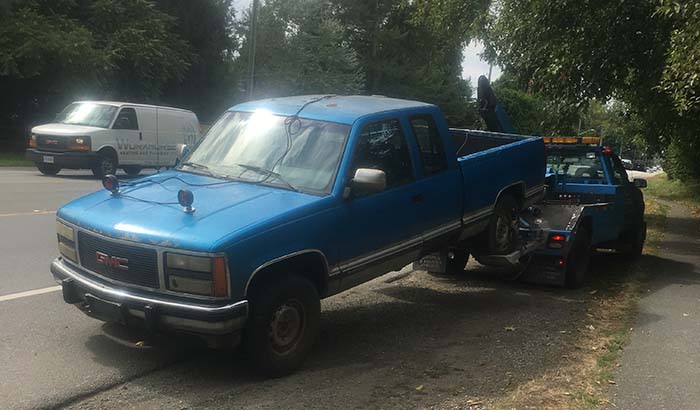 If you have been following Vancouver Scrap Car Removal on various social media, then you may have seen some of our new videos.
Scrap Car Removal Near Me
This video featuring "Scrap Car Removal Near Me in Surrey" is the most recent production that we only just uploaded today. In case you haven't seen it on YouTube, we thought we would post it here on our website to make it easier for you to view.
The vehicle in the video is a 2002 GMC Sierra that we picked up in Langley. This blue pick-up truck not only had severe problems with rust underneath it, but the fuel lines were also clogged. Obviously, the owner decided that there was no point in paying a high price to have the over 20-year-old vehicle repaired, so they did the smart thing.
They got in touch with Vancouver Scrap Car Removal and made arrangements with Joe to purchase the old, rusty truck and take it away.
Do you have a car, truck or SUV that you are ready to get rid of? Then here is what you need to do…
Call or Text: 604-779-6397
Have a good conversation with Joe, and let him know the important details about your vehicle, including the year, make, model, how many kilometers driven, and where you are located.
You will soon discover that Joe is a good guy to do business with. He is fair, honest, and he has an excellent reputation for paying more fast cash than his competition. If you don't believe it, then try it out yourself. Contact one or two of the other junk car removal businesses in the Greater Vancouver area and talk to them. Chances are excellent that you will decide to go with Joe.
Here is another video of just one more of the many cash for cars jobs that Joe and his team have been doing lately…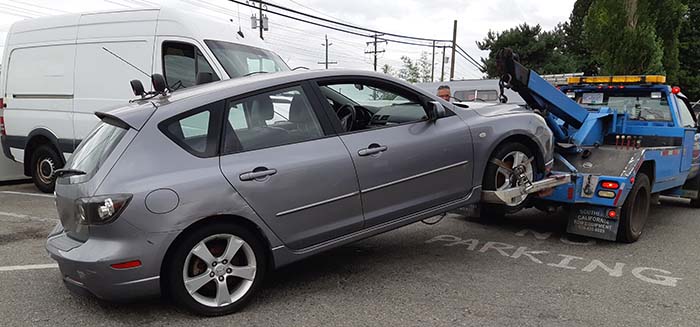 The next most recent cash for scrap cars job Joe did was a 2005 Mazda 3 that had been located in West Burnaby.
This silver coloured 5-door compact model had a high number of kilometers on the odometer, and its brake master cylinder was also quite badly worn.
Needless to say, the owner was very pleased to be paid a generous cash settlement on the spot for their old junk car. And they were also relieved to see Joe carefully removing it and towing it away from their location.
If you are troubled with an old, unwanted car or truck that you would like to have taken away, then now is the time when you should be getting in touch with Joe at Vancouver Scrap Car Removal.
It's easy enough to do. Simply pick up your phone and call or text…
604-779-6397
In a matter of minutes, you could be finding out why Joe and his team have earned so many five-star reviews over the years.
That's because folks like you are happy to get paid fast cash and receive prompt, courteous service. So rather than searching for "scrap car removal near me" online, why not do it the easy way, and simply contact Joe?
Maybe the next 5-star testimonial we'll be publishing will be from you!