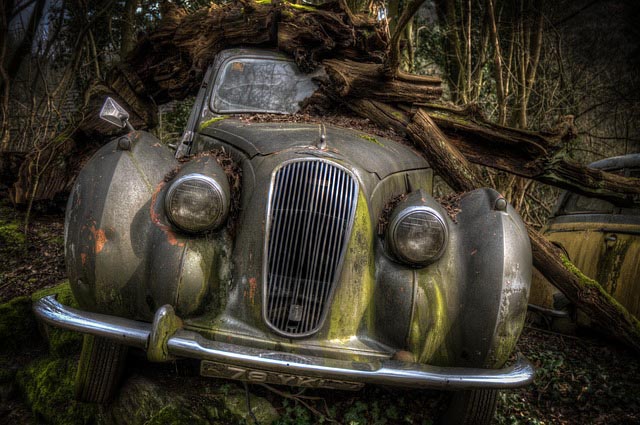 True Confession: this picture of a vintage automobile embedded in a tree was not really one of Joe's scrap car removal Coquitlam jobs. It's just an old photo we found of a junk car. But we thought it was an interesting way to illustrate the way that Joe goes out of his way to help people with their scrap car removals – not only in Coquitlam but all across the Lower Mainland of BC.
Watch a Video of Joe
Do Joe's customers appreciate the job he does for them? Well, one customer in Maple Ridge certainly does. After she agreed to sell her scrap SUV to Joe, she was so happy she asked him if it was OK if she recorded a video of him hooking her old car up to his truck. "Yes, of course," Joe told her.
Here is the video she recorded. She sent it to Joe, and he arranged for it to go up here on the Vancouver Scrap Car Removal website. You can watch it yourself.
You Can Be An Internet Star
Do you want to be a star on the Internet? Well, if you call or text Joe at 604-779-6397 and make arrangements for him to give you cash for your old clunker and tow it away, you can take a selfie with Joe and your old car. Then email the picture to us and we'll post it online – and maybe even on our Facebook page!
Cash for Cars Coquitlam Details
One of the questions Joe get asked most often is "how much cash can I get for my scrap car?" We wish there was an easy way to answer, but to be honest, there really is not. This is because there are so many different variable factors, some of which may change from day to day.
But there is a very simple way you can find out how much money Joe will pay you to remove your junk car, and that is to ask him directly. Let him know the year, make and model of your vehicle for starters. Secondly, advise him about the current condition that your car or truck is in. For example…
Does it start?

Can it be driven?

Where are you located?

What kind of place is the vehicle situated in?

Do you have the proof of ownership documents and a car key?

When would it be convenient for Joe to come over and tow your scrap car away for you?
After you have had that conversation, we believe you will do what so many of your neighbours have done, and tell Joe "Yes, we've got a deal."
And, finally, once Joe has taken care of the paperwork (he does most of the work, so you don't have to worry about doing anything like that), and he has paid you your cash, don't forget about the selfie! Please take one of you and Joe and your old car, or of you and Joe and his big truck. Or, why not take a whole bunch of selfies with Joe. Email them to us here and we'll keep our promise and make you an Internet star. Well, at least you can star here on Joe's website. Does that sound like a good deal? Then here's what to do next…
Call or Text Joe at 604-779-6397
This space reserved for your selfie with Joe.