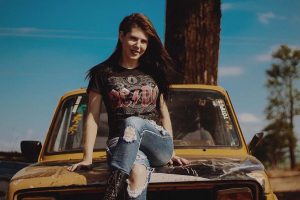 If you have an unwanted vehicle and are looking for a dependable company that pays top cash for junk cars in Vancouver, then we have good news for you.  Joe's Scrap Car Removal is the Lower Mainland's leading recycling service for automobiles, vans and trucks that have outlived their usefulness.
Except they are useful to you for one last thing – money!
How Much Cash Can I Get For My Old Car?
Joe is well aware that he has many competitors out there hoping to attract customers such as yourself – folks with an old, broken down car that has reached the point where it would not be worth the investment to have it fixed. If you do a search for "cash for junk car" on the Internet, you will see a long "shipload" of listings, all promising to be the best.
Which Scrap Car Removal Company in My Area Is Best?
Well, we hate to brag, but I guess sometimes you have to toot your own horn, so here goes…
If you look at the Google Business Listing for Scrap Car Removal in Port Coquitlam, you will see a long list of honest reviews that were left by Joe's happy customers. It takes some time effort for these folks to go online and leave positive reviews, and they do not receive any compensation for doing. I guess that must mean Joe is doing a pretty darn good job, eh? For example…

Of course, what Brian M. didn't mention was that Joe paid him hundreds of dollars as part of the deal. But money truly is not everything. It's always better when you get excellent service, when the guy you talk to arrives on time, and is a pleasure to do business with. And that pretty much sums up why, in our humble opinion, Joe and his team operate the Number One junk car towing service in town.
And when we say "in town", we mean the entire Metro Vancouver area (formerly known as the GVRD) from West and North Vancouver across to the UBC Endowment Lands, through to Richmond, Delta, Ladner and Tsawwassen all the way to Surrey and White Rock. And we also go into the Fraser Valley to Langley and Maple Ridge. You can contact us now by voice or text at this number:  604-779-6397
We Pay You Top Dollar For Your Junk Car
Your old, unwanted vehicle may seem like junk to you (if it was not, then you would not be looking for how to have it taken away, would you?) but for Joe and his colleagues in his Scrap Car Removal office in Port Coquitlam, rusty old trucks and automobiles are as good as gold. That is because they know the best ways to repair, re-use and re-cycle junk cars for money. And, to make the arrangement even better for you, Joe likes to reward his customers by paying them the very best amounts possible.
How many hundreds of dollars will they pay you for your unwanted auto?
Call or text now and find out: 604-779-6397
We hope, if you have read all the way down this far (and thank you very much for doing that, by the way) that you now know the answer to the question we asked at the start: "Who pays the best top cash for junk cars in Vancouver?"  Now there is only one more thing that you need to do to solve your unwanted vehicle problem: pick up your phone and get in touch with Joe. Once you have done that, your life will start getting even happier.
P.S. And when Joe has taken your car away, and you are holding all that money, please do us one more favour… Leave a nice review so other folks will know where the best place is to get paid cash for their old car.