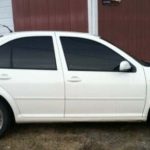 Would you like to hear an interesting tale about a Coquitlam scrap car removal adventure? Well, you are in luck. Joe at Scrap Car Removal Vancouver recently had an experience that we are happy to share.
If all happened a few days ago in a pleasant Coquitlam neighbourhood, located somewhere in between Burke Mountain and Westwood Plateau. The hero of this story is a 1999 Volkswagen Jetta that was white in colour. The poor old VW had a busted transmission and alas, it was not the pride of Wolfsburg, Germany as it used to be nearly 20 years ago. On the contrary, it was no longer the reliable car it started out to be. But its owner knew how to solve the problem. Do you know what the answer was?
Call or text 604-779-6397
Although the '99 Jetta was a darn good car in its day, it was not without its problems. Owners loved it because it got pretty nice gas mileage and was not only reliable, but also gave the driver a feeling of safety and security. But one of the biggest drawbacks of this German-designed automobile was the cost of upkeep. Maintenance costs were notoriously in the higher price range and if parts needed to be replaced if something broke, then they tended to be quite expensive.
That was the case of our scrap car for removal in Coquitlam. The tranny had failed and the cost of fixing it would have been prohibitive. So the owner made the right choice. They picked up their phone and got in touch with Joe at 604-779-6397.
They told him the details and he sprang into action.
Joe arrived at their location, got the paperwork out of the way, paid the owners several hundreds of dollars, and towed away the car. Their problem was solved, and they were happy to receive some nice money from Scrap Car Removal Vancouver.
Professional Junk Vehicle Towing
You can take advantage of the same top quality, professional junk vehicle towing service. Even if you don't live in Coquitlam and the vehicle you want to get rid of isn't a '99 Jetta. Joe is pretty flexible that way.
Environmentally Responsible Scrap Car Disposal

Are you concerned about the environment? So is Joe and his team of hard-working professionals at Vancouver Scrap Car Removal. They know that the fluids contained within automobiles and other vehicles may be hazardous to the earth. So they have been trained to take caution and adhere to all Provincial and Federal regulations when it comes to the disposal of automotive materials. That is just one more reason why you can trust Joe and his crew to do the job the way you would want them to do.
Here is a funny "driving fails" video for you to enjoy…