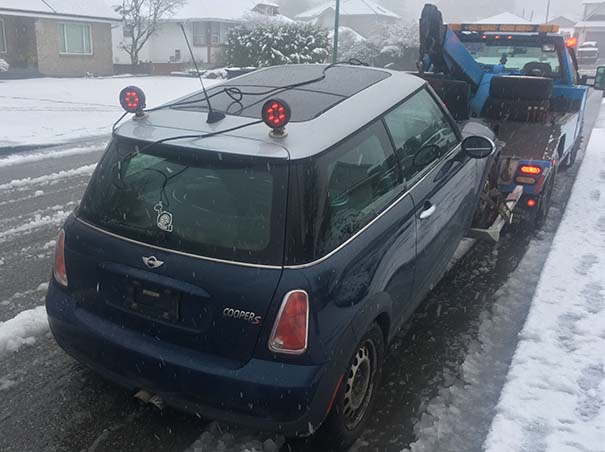 If you are wondering how much should junk car removal cost, you really need to talk to Joe. That's because you should not have to pay for junk car removal. On the contrary. If you make arrangements with Joe to take away your scrap vehicle, he will pay you – hundreds of dollars in cash!
So if you have been thinking about looking to get free scrap car removal, you are truly missing the boat.
For example, the 2006 Mini Cooper that Joe and his team picked up in Chilliwack last week. It was not a very reliable vehicle, and its final issue was with the transmission. It would not shift gears anymore. So the owner picked up their phone and called…
604-779-6397
Joe made a prompt appointment, came out, saw the car, checked out its condition, took care of all the paperwork, and hauled the vehicle away. The snow was no problem either.
Are you wondering how many hundreds of dollars Joe will pay you in cash for the old, scrap car or truck that you don't want to keep anymore? There's a really good way for you to find out…
Call or text Joe at 604-779-6397
Tell him the year, make and model, what kind of condition it's in, and ask "How much for my junk car in Surrey, BC?" Or wherever you are located in the BC Lower Mainland.
If you check it out, we're very confident you will come to the conclusion that nobody pays more than Vancouver Scrap Car Removal when it comes to "cash for cars."