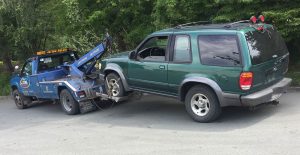 If you have been reading the Vancouver Scrap Car Removal blog at all, then you probably have a pretty good idea what it is we do. In a nutshell, we help folks by towing away their junk automobiles and paying them fast cash on the spot. And we cover pretty much the entire Lower Mainland of B.C., from Richmond in the West, to West Vancouver in the North to the Fraser Valley in the East and White Rock in the South.
The photo above and to the left shows a Ford Explorer we picked up in Coquitlam not too long ago. The green van had transmission problems that would have been too expensive to repair, and so the owner decided to give Joe and his junk car towing team a call and have them take it away.
For Scrap Car Towing Call or Text: 604-779-6397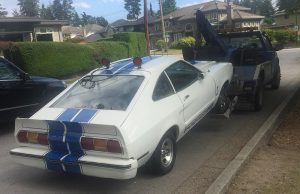 But just the next day, Joe did a very different job. And it was one that required even more care and attention than usual. The vehicle being towed was a beautiful vintage Ford Mustang Cobra. And this valuable and desirable collectors car was not being towed away for scrap. Far from it. Joe was asked to do a very precise job of picking up this muscle machine and taking it to a repair shop to have some work done.
How valuable is this automobile? Well, The Ford SVT Mustang Cobra (also known as SVT Mustang Cobra, SVT Cobra, or simply as Cobra) is a muscle car/pony car model that was built in model years 1993 through 2004 by Ford Motor Company's Special Vehicle Team division (or SVT, for short). The SVT Cobra was a high-performance version of the Ford Mustang, considered as top-of-the-line as it was positioned above the Mustang GT and Mach 1 models during its era of production. On three occasions, the race-ready, street-legal SVT Cobra R variant was produced in limited numbers.
That is why you can be certain beyond a shadow of a doubt that Joe did this towing job personally, and he took very attentive care to make sure it remained safe and well looked after during its journey to the shop of the expert mechanic who was given the task of getting it running back in top form once again.
Obviously, if you are getting rid of a scrap car, van or truck, then it will probably not make any difference to you whether it gets any extra scratches or dents after Joe has bought it from you, paid you fast cash and top dollar for it, and it hauling it away to be recycled. But – just the same – it goes to show you the degree of professionalism and expertise these trained automotive professionals bring to the job.
For Junk Vehicle Removal Call or Text: 604-779-6397
Coming up next time in this junk car removal blog, I will be telling you more about customer satisfaction. You see, only a few hours ago, Joe was very happy to be informed that he just received another five-star review from another very satisfied guy who needed help right away and was more than pleased with the way Joe looked after him.
But that story will have to wait until next time.
Thank you for taking the time to read this latest edition of the Vancouver Scrap Car Removal Blog.
And – Happy B.C. Day Holiday Monday tomorrow! Please drive safely!