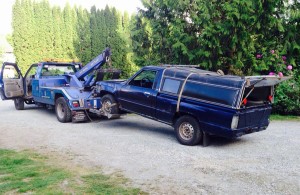 It has been quite a while since we have posted any updates on our blog, so, as 2015 comes to an end and the New Year approaches, we thought that now would be an appropriate time to go through the pictures of some of the vehicles we towed away this past year, starting with one that illustrates a Surrey scrap car removal adventure that is described in the dramatization below.
As you can see in the photo, the truck was blue and it was also pretty beat up. It was hard to tell at first glance whether it was a Ford F-150 or a Chevy S10.
The front end was smashed in and the hood was buckled as if it had been in an accident and ran into something. That meant the radiator and cooling system were probably shot. The front and back bumpers were missing and the tail lights were gone.
The body had a lot of rust. As a matter of fact it was even rusted through in some places. Surprisingly, the tires looked like they were in pretty good shape. There was also a camper top over the pick up bed which, although it had seen better days was maybe not a total write off.
The truck was located in a pleasant, quiet residential part of Surrey not too far from a park. There were still rhododendrons blooming.
It was interesting talking to the owner. Although he did not buy the truck new, he had owned it for a number of years and it was clear to see that there were a lot of pleasant memories associated with the vehicle, which made him more than a little bit reluctant to part with it.
Have you seen the television commercial for Kidneycar, the outfit that donates junk cars to charity? It starts with a young couple making out in the car, and the girl is calling her boyfriend Steve. Then it changes to years later and the woman, now his wife, is telling Steve that it's time to "make the call" to get rid of the old junker, which no longer has any wheels and is sitting up on blocks in the back yard. Well, this situation was actually very similar. It was as if the owner didn't want to part with the old truck that had served him so well unless he had the reassurance that it would be going to a good home.
Scrap Car Recycling
We reassured him that, not only would the "old friend" be treated with respect, the work would all be done in a manner that was environmentally sound and that met all the necessary provincial and federal government guidelines. The parts that could be re-used would not be simply discarded, and the rest would leave as few environmental consequences as possible.
Even more important was the cash he got back. It is a firm policy with our junk car recycling company that we pay top dollar for taking away old, unwanted vehicles such as this truck in Surrey, and in this particular case history, you could say that the owner was very pleasantly surprised with the value of the payment we were able to give him.
After all of the paperwork had been finalized and just as we had lifted the truck's front end up so we could remove it safely, we paused for one last moment and snapped the picture you can now see. It may not look all that artistic, but it certainly does illustrate one particular Surrey scrap car removal that resulted in a positive way for everyone involved.
If you have an old clunker you're thinking of having towed away, I hope you will be kind enough to give us a call or send a text message to:  604-779-6397.
Thanks very much for taking the time to read this, and have a very Happy New Year from all of us at Vancouver scrap car recycling.