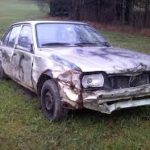 If you have been doing a search for scrap car places near me in Vancouver, then you have found the website you have been looking for. Congratulations! Joe's Scrap Car Removal Service may have its head office in Coquitlam, but no matter where you live in the Lower Mainland, he is happy to come to you.
Cash for Scrap Cars
If you have a car you are ready to scrap, then Joe has cash he is ready to pay you on the spot. What better way to celebrate the hot, summer-like weather we are finally getting in the Metro Vancouver area than to spend some of your new-found money on frosty cold ice cream or maybe some of the excellent craft beer that is now being brewed in our local neighbourhoods.
It's easy to collect that payment now. To get started simply pick up your phone and send a text message to Joe at 604-779-6397. Or, you can simply make a phone call if that's easier for you to do. Either way, Joe and his team are happy to find out more about the vehicle you are hoping to get rid of and to pay you a fast reward for it.
Cash for Junk Cars in Burnaby
Maybe you have an old clunker to be removed from your yard in North Burnaby near Hastings and Willingdon, or perhaps you have a broken down truck you need to have towed away and scrapped from your driveway in the Middlegate area. No matter what part of Burnaby you are located in, the friendly guys from Joe's Scrap Car Removal Service are ready and willing to give you a hand, as well as a prompt payment.
Where you are located is not really all that important. More serious concerns are that you are the registered owner of the vehicle, and you have proper registration papers. If you have a key that fits the ignition, that's even better. Don't worry about going through the hassle of picking up the transfer of ownership paperwork. That's Joe's department. He will look after all that documentation for you.
Text or Call Today: 604-779-6397
When you get in touch, Joe will need to ask you for a few simple details, like: Make, Model and Year. What is the condition of the vehicle? Does it still have all four wheels, and what is the condition of the tires? Will the engine start? How recently was it moved or driven? Is it leaking any fluids such as oil, gasoline, transmission fluid or radiator coolant?
Depending on your answers to those questions, you could be paid up to as much as $1,000.00. Wouldn't that be a great way to kick off the summer? But – in all fairness – most of the unwanted vehicles that Joe and his team tow away for free are not worth that top dollar. Sometimes it might be just a few hundred. There are a lot of variables to be taken into consideration.
You can trust the experts to do the job right
Want to know what some of the most recent customers have had so say about their experiences? Here are a couple of real-life examples:
Joe responded immediately and arrived within a couple of hours, as promised. It was a pleasure to talk with him and the service was excellent. Thanks Joe, and God bless!
-Brian M.

Very fast and friendly. The process was very easy, and the guy was very awesome 🙂 would totally recommend to friends and family.
-Jolyne C.

Answered immediately. Came well after 5pm on a week night. Endearing texts and use of emojis. Polite and funny. 10/10 would let him steal my car again.
– René F.
By now, I think you have figured out the answer to that question we mentioned at the beginning: "What are scrap car places near me?" Of course the answer is that when you pick up your phone and call or text 604-779-6397 then Joe will be happy to come to you and "steal" your car, just like he did for René.