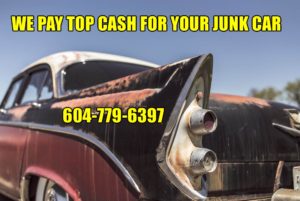 If you have an old car or truck that is no good for you anymore and it is time for you to get rid of it, then you probably are looking for an auto towing company that gives people the best scrap car prices in the greater Vancouver area. If you are living in Surrey, Burnaby, Coquitlam, East Vancouver, Champlain Heights, Richmond, Langley, Crescent Beach or even on the North Shore, you can do what so many of your neighbours and friends have done. And that is get in touch with Joe at Vancouver Scrap Car Removal.
604-779-6397
Why call him? Well, there are actually two very good reasons…
Number one: Joe is a pretty decent guy to deal with. Sure, he might have a little bit of grease on his overalls some times, but that is simply because he is a hard worker in the junk vehicle towing business. But if you talk to folks who have done business with him, they will be very likely to tell you that he was fair and honest, and that he paid them the top dollar they were looking for when they needed to have their unwanted car taken out for scrap.
And that takes us to reason number two…
Money. Some people say it makes the world go around, and others say that it will not buy happiness, but one thing is certain – It's hard to pay the rent and buy groceries if you don't have enough.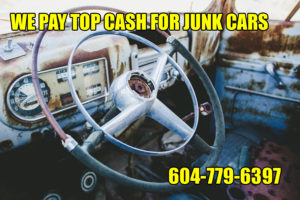 That's why you do not want to settle for less when you sell your old broken down vehicle. You expect to be paid the maximum cash value (within reason, of course). And that is precisely what you will receive when you set up an agreement with Vancouver Scrap Car Removal to tow away the car you are no longer in love with. They have a proven track record of paying out the best prices. And that is why the customers whom they have served are more likely to recommend Joe to their friends and family.
Of course you can check out the competition. And V.S.C.R. actually encourages people to do just that. Because when you compare the way Joe does business with the way his competitors in the greater Vancouver junk auto removal business do, we are very confident you will make the decision that Joe is the fellow you want to work with.
So, here is what you need to do…
The Best Way to Get Your Scrap Car Removed
There are two convenient methods you can use, so pick whichever seems most comfortable for yourself.
The first way is to use the handy form on this website. Just CLICK THIS LINK and you will be re-directed there. You simply fill in your contact information: Name, Email address and location. Then, please write in any important details about your particular car and situation. For example, does it still run? Does it still have all four wheels and tires, and are any of them flat? When you're done, just click the "SEND" button, and Joe will receive it via email.
Secondly, you can just pick up your phone. Either send a text to: 604-779-6397 or make a voice call. If Joe is busy assisting another customer, you could be diverted to his voice mail, but that's the way it goes in the vehicle towing business.
Either way, it's up to you. Whichever route you decide to try, you can rest assured that when you do contact Vancouver Scrap Car Removal, you will be on your way to getting the best price for your junk automobile. Which is why this little message is titled "Best Scrap Car Prices Vancouver." Because it's their personal commitment to you.
And thanks for reading!