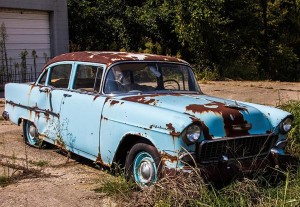 If you have an unwanted scrap vehicle you want to get rid of, here is a tip from the good folks who buy used cars, vans and pickups even if they are not drivable anymore. Don't let the old rust bucket take up valuable space in your garage or sit like an unsightly vision in your yard or driveway while you scratch your head and wonder "how can I sell my junk car for cash?" If you live in Surrey, Delta, Coquitlam, Burnaby or any location in the Metro Vancouver GVRD then Joe's Scrap Car Removal Service is the answer you have been searching to find.
Auto recycling made easy
Our environment is precious and everybody knows that green is the way to go. When it comes to automobile recycling, the problem becomes even more serious because of the potentially toxic fluids in your old jalopy. There is grease that can ooze from wheel bearings, transmission fluid just waiting to drip from your gearbox, gasoline ready to seep through the cracks in a rusting tank, motor oil about to run away from the engine block and antifreeze coolant that can splash from a burst radiator. Where will these harmful substances go? Down your driveway or through your grass into the water system where they might harm wandering cats and dogs, spawning salmon, and even worse. Before this happens, have your car removed safely and professionally by Joe's pro's by phoning 604-779-6397.
Car scrappage in Surrey
If you are near Guildford, Newton, Bear Creek, Scott Road, Gateway or anywhere within the fast-growing municipality of Surrey, then you are very close to the expert car scrappers at Joe's towing service. When you shoot them a text, you are on your way to getting a speedy reply, courteous service and the rich payment you deserve in return for having them take away the auto, van or light truck that is interfering with your happy lifestyle. So what are you waiting for? Do it now: 604-779-6396.
Cash for junk vehicles paid fast
What will you do with the money you get for the worn out vehicle that Joe's guys will take away? Do something practical like pay the rent or buy groceries? Nah, why not spoil yourself with a special treat! Of course the choice is up to you, but we recommend you celebrate the good fortune you will enjoy as well as the peace of mind you will feel when "Nellybelle" is no longer rusting away alongside your house. Prompt payment and flexible schedule arrangements are just two of the reasons their satisfied customers say are what makes it such a wise choice to deal with Joe's Scrap Car Removal Service.
Tow-away car service anywhere in Metro Vancouver
One last word. Just because this article is all about selling your junk auto in Surrey, that does not mean we only serve residents of that area. On the contrary, Joe and his crew of expert workers are happy to come to you in Abbotsford, Vancouver, Langley, Maple Ridge, Mission, Richmond, White Rock, Tsawwassen, Pitt Meadows and the North Shore as well as the city that's proud to say "The Future Lives Here."
We look forward to serving you. Text or phone now, please: 604-779-6396.