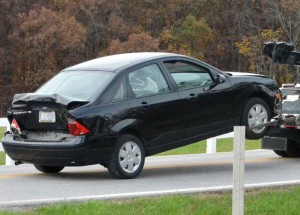 Junk vehicle removal service for old cars and trucks is what we are experts at doing. Recently we towed this scrap Ford Focus in Coquitlam and paid cash to its owner for taking it away. Auto recycling in the Lower Mainland of Greater Vancouver is our specialty.
Because we care about cars, we thought we would share some tips on how to keep your old car running longer.
Right now the winter season is just starting and this is the most important time of the year for you to make sure your car is well tuned up. Getting a winter tune up will help make sure that your car starts fast at a time when the battery might be lower because of cold temperatures reducing the effectiveness of the engine's spark plugs. It is recommended that a car should have a tune up at least once every year, and if possible the winter is the best season to do so.
Another very vital engine component that is easy to check on is your vehicle's battery. Have it checked and if necessary get a replacement. As mentioned earlier, the cold temperatures in winter weather (even here in the Vancouver area where the climate is milder than in other parts of the country) can take its toll on the battery you need to start up your car quickly. The battery connectors and cables should also be inspected to make sure they are not suffering from reduced efficiency.
Especially for older vehicles, changing the oil to a lighter weight rating may be a good idea. Heavier motor oils take longer to warm up, and while they are still cold, engine parts that depend on oil for lubrication can suffer from heavier wear, reducing the life of your engine. All modern oils are engineered to be different in the winter than in the summer, as indicated by ratings such as 10W30 and 10W40, with the "w" standing for winter.
The next step in winterizing your vehicle would be checking the antifreeze in the cooling system. During the warmer months of the year, if the water level in your radiator line is a bit low, there is probably nothing wrong with topping it with ordinary water. But if there is any chance of a freeze up in that system, then you had better make sure the water is gone and has been replaced with an antifreeze appropriate for the winter temperatures in your region. At the very least, 75% of your cooling system fluid should be antifreeze, and a complete 100% is preferable. One safety note: some of these chemicals have an aroma and flavor that is attractive to dogs and other animals, yet it is a deadly poison to them. So be very careful if you are ever draining or topping up with antifreeze to make sure that if any gets spilled on the driveway or garage floor, you carefully clean it all away.
We hope that these tips for winter vehicle care will be useful for you in keeping your car or truck running longer. But if its life span has run out and you are ready to get rid of it, then please remember to call or text us at: 604-779-6397. Whether it is junk car removal in Coquitlam you are looking for or any other vehicle towing situation, our pledge is to pay you the maximum amount of money possible for your recycled Ford Focus or whatever.