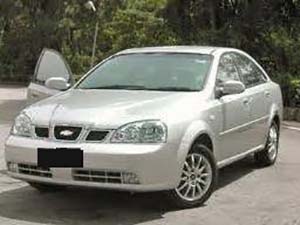 We were a bit surprised when we were contacted by Brooke in Coquitlam, when she wanted us to do a scrap car removal job for her. The surprising element was her vehicle. It was a 2003 Chevrolet Optra, which is not exactly a well known model of an automobile. More about that later. First the self-congratulatory part of this story.
When we arrived at Brooke's residence on Thermal Drive (one of the nicest parts of Coquitlam) she told us all of the necessary details including the Insurance Corporation of British Columbia (ICBC) registration form, the required document that provides the evidence we need to be assured that she was the legal owner of the car.
A price was agreed upon, and the business transaction was completed to the satisfaction of both parties. Vancouver Scrap Car Removal towed away the unwanted Optra, and Brooke pocketed a nice amount of cash, as her fast payment on the spot.
Five Star Review From Another Satisfied Customer
And how pleased was this new customer? Well, a short time afterwards we were notified that she had taken the time and gone to the trouble of posting a review online. This is what she wrote:
"Service was quick, friendly, and hassle free. I would highly recommend Joe's services!"
It was signed by Brooke L, and she was kind enough to give us rating of a full five stars out of five.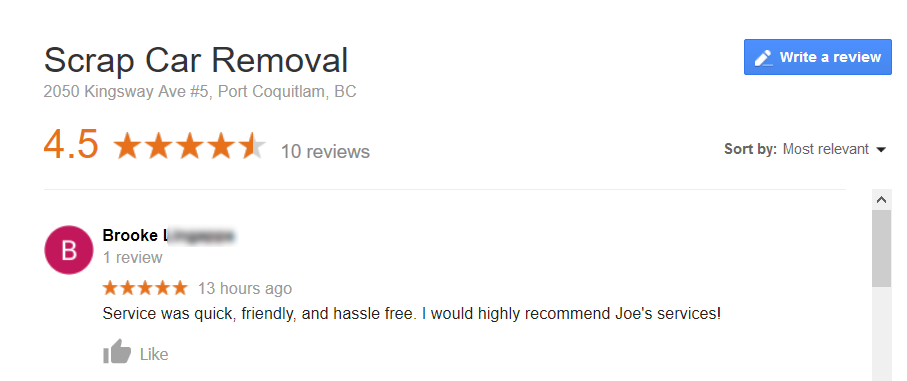 We hate to brag, but Brooke's is not the only five-star review that Vancouver Scrap Car Removal has earned over the years. There actually is a total of eight of them, a fact that more than makes us happy. It demonstrates that we must be doing something right.
If you are ready to experience Joe's five-star rated scrap car removal service for yourself, it's really very simple to make happen. All you need to do is pick up your phone and either call or text this number…
604-779-6397
Now, getting back to that little-known vehicle…
We did a little bit of research and found out that the 2003 Chevrolet Oprta was actually manufactured by General Motors Korea, who sold it domestically as the Daewoo Lacetti. It was a front-engine, front-wheel drive compact car that was available in several configurations, including a four-door sedan, a five-door hatchback and a five-door station wagon. They were quite stylishly designed vehicles, having been styled by Pininfarina and Giorgetto Guigiaro.
The name Lacetti is derived from the Latin word Lacertus, which means youthful, energetic and strong. We are not sure what the source was for the Optra name, by which the car was known here in Canada.
The Lacetti was marketed in Canada as the Chevrolet Optra in two models, a four-door hatchback (the Optra5), and an Optra wagon, all in LS or LT trim levels (2005 wagon only had base or LS trim levels). The sedan was available in 2004 and 2005, but was taken out for 2006. All were powered by a 2.0-liter inline-four D-TEC engine, rated at 119 hp (89 kW) at 5400 rpm and 126 foot-pounds of torque at 4000 rpm, driving the front wheels through either a five-speed manual transmission or a four-speed automatic. Despite its compact size and the 2.0-liter engine, fuel economy was not rated at all that positively at a thirsty 10.7 and 7.4 L/100 km (22 and 32 mpg‑US) for city and highway driving, respectively, which was not as good as could be found with other mid-size cars like the Toyota Camry or Honda Accord, considering that the Optra was a compact car.
The car was marketed to be a versatile and entertaining to drive but affordable budget compact family car. Brakes are disc, front and rear. The Optra fit in  between the Cobalt and the Aveo, and it was a replacement for the Daewoo Nubira.
Did you enjoy that lesson? Not to worry, there will not be a quiz.
The main take-away that Joe and his team at Vancouver Scrap Car Removal hope that you will gain from having read this Coquitlam Junk Vehicle Removal success report is that we make our customers happy. Happy enough so they are willing to go out of their way afterwards and reward us with five-star rating reviews.
When you need to have an unwanted truck or car towed away, all you need to do is call or text:
604-779-6397
And thanks for taking the time to read this posting.