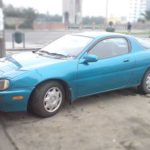 This is actually quite a sad story about a junk vehicle towing job in Maple Ridge that Joe at Scrap Car Removal Vancouver did recently. The reason why the vehicle became un-driveable was because it was damaged in a break-in.
The 1995 Mazda MX3 is quite a good-looking auto, and obviously some would-be car thief thought that it looked worth stealing. Unfortunately, the attempt to start the car by "hot wiring" it failed. All the guilty party succeeded in doing was ruining the electrical wiring system so badly that the car could not be started at all.
Fixing the damaged wires would have been a very expensive repair job, so the owner decided to say goodbye to their pretty blue Mazda. They picked up their phone and gave a call to Joe at Scrap Car Removal Vancouver.
Text or Phone: 604-779-6397
Of course when they called, they explained to Joe the reason why they did not want to keep the car anymore but rather wanted to have it towed away safely and in an environmentally positive way. Needless to say that they also wanted to be paid top dollar in the process. Joe, being the helpful and accommodating fellow that he is, was able to solve their problems and make them happy.
Dependable Junk Car Towing
Do you have a truck, RV, mini-van or a car that you no longer want to keep? Then why not do what so many wise drivers in the Greater Vancouver area have done? Simply send a text or make a phone call to 604-779-6397
Let them know a few details about your vehicle, like the year, brand, model name etc. Other important facts they will want to know about are the condition of the car or truck, your location, and anything else that might be helpful, like whether it's parked in an underground parkade, for example.
Getting Ready to Scrap Your Unwanted Vehicle
Joe will need the ICBC registration papers, but he will take care of all of the rest of the paperwork for you. He is good with those kinds of details, so you don't have to worry about them. When it comes to fast, friendly service in the junk vehicle towing business, Joe and his team are leaders.
We hope you never have to deal with an experience like the owners of that pretty blue Mazda RX3 in Maple Ridge had to go through. Vehicle break-ins leave you with a very unhappy feeling. It's far better when your trusty automobile just comes to a natural end. But whatever reason you may have for not wanting to keep a car or truck, you can always count on the Vancouver Scrap Car Removal team to do the job that will make you happy.