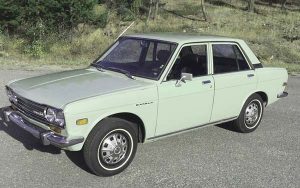 Maybe your partner has been on your case about the old beater of a car that is rusting away in your driveway and you have been wondering where you can locate dependable scrap car buyers near New Westminster. Well, if you are never going to fix it up, and it is no longer a useful second car to have as a backup in case of emergencies, then why not get paid some cash for your old car instead? Buying junk vehicles is what we love to do.

A lot of consumers around the Metro Vancouver area who were searching for "scrap car pick up near me" have discovered that Joe at Vancouver Scrap Car Removal service actually means what he says about being quickly responsive and fair when it comes to paying you a fair price for your unwanted vehicle.
For example, look what Andrew Murphy had to say about his experience in dealing with Joe…
After an online search I found Joe's Scrap Car Removal, called him and within an hour he was at my doorstep ready to remove the old VW Golf (the green machine). He gave me cash for my car and it was a very smooth process. Joe has a great personality and I will definitely recommend him!
– Andrew Murphy
Afterwards, Andrew was kind enough to leave a five-star review on the Google Business page for Joe's business.
So, what should you do when you have made up your mind about where to go for a scrap car buyer in New Westminster, or anywhere around the GVRD from the North Shore to White Rock? Well, if you follow Andrew's advice, here is what to do…
Most importantly, go get your phone and call or text this number:
604-779-6397
Then you will need to let Joe know about your car and your location. What's the make, model and year, and what part of town your are situated in.
After you have agreed on when he and his tow truck will be there, you will have to get your paperwork located, as you are going to need your registration documentation (in other words, your ICBC papers that show the ownership of the vehicle).
You will also need your car key. If you key ring is anything like mine, it may take you a few minutes to separate the vehicle key from the rest of the ones on the holder.

Next, what about access to your vehicle? Is there anything blocking the way? Move any other vehicles or belongings that might be in the path of Joe's tow truck, because he certainly does not want to accidentally damage any of your personal property while he is in the process of removing your junk car or truck.
Depending on the location where your vehicle has been stored, there may be other access issues. If it's inside a garage or car port is the door working all right? If it's in an underground parkade that requires fob access, make sure that is functioning properly.
Basically, if you can make it easier for Joe to get access to your scrap car, he will certainly appreciate your helpful efforts.
The next thing for you to do would be to look in and around all the nooks and crannies to make sure you have not left behind anything you will miss later. Look in the trunk, in all the pockets and oddment bins as well as the glove compartment. Don't forget to check under the seats. Who knows, you might find something you had forgotten!
How to Pick the Best Scrap Car Buyer Near Me?
Back in the olden days, you used to be able to look in the Yellow Pages phone book to see which junk vehicle buyer had the biggest ad, because they were probably one of the most reputable. But those days are gone. What's useful instead?
A lot of people Google "scrap car pick up near me" and end up finding Joe's listing in Port Coquitlam. And if you check those web pages, what you will see is a long row of five-star reviews that Joe has earned over the years.
For example, after Joe looked after Brooke Lingappa, she was generous enough to write this:
Service was quick, friendly, and hassle free. I would highly recommend Joe's services!
– Brooke Lingappa

So, if the time has come when you realize that your car has seen better days and at this point if it doesn't have any more life remaining in it then what's the point of keeping it around when there is someone like Joe who is ready to pay you a nice amount of cash in addition to towing it away.
Call or Text: 604-779-6397