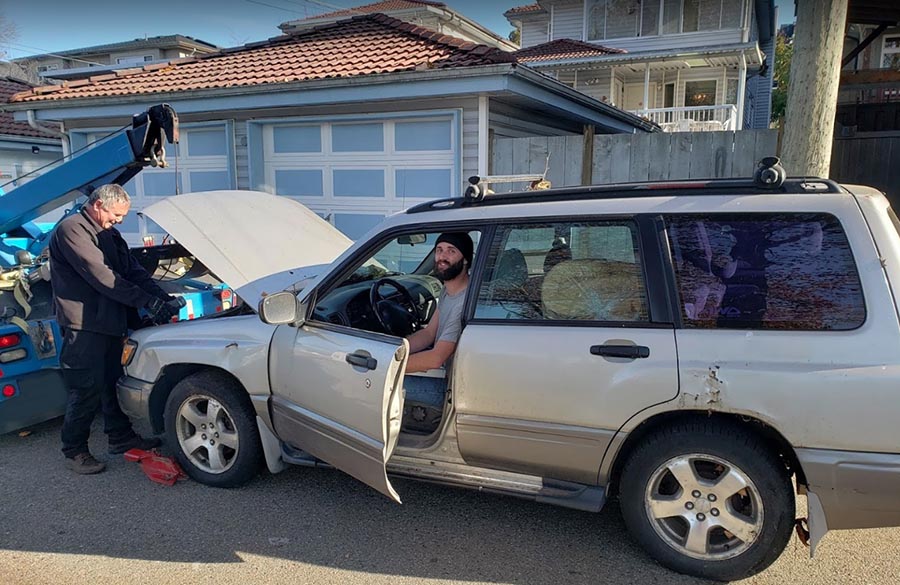 What makes Joe's automotive service better? Why should you trust Joe to do your scrap car removal in Metro Vancouver? Actually there are five solid reasons.
1. Prompt service – Joe tries to be as flexible as possible when it comes to responding to your car towing and removal needs. He knows there are times when you really need help fast, and Joe has often been able to come instantly when people have had car breakdowns and required emergency assistance.

2. Joe is a trained professional – With better than 20 years of automobile experience, Joe has the knowledge to tell you whether or not your vehicle is worth repairing, or whether it's time for it to be taken to the scrap yard.
3. Good cash payments –  Of course you want to receive as much money as possible in return for your old, unwanted car, truck or RV.  Time and time again, Joe has been proven to be the one who pays maximum dollars for junk vehicle towing and recycling.
4. Environmentally sensitive – When you do business with Joe at his Vancouver Scrap Car Removal Service, you can be confident that you are dealing with folks who meet or exceed all mandated provincial and federal requirements for earth friendly recycling, and environmental damage prevention.

5. Satisfied customers – If you check out the testimonials Joe has received from the folks he has made happy over the years, you will see that just about every one of them is a five-star review.  Here is the latest one from Chris. You can see him and Joe in the photo at the top of this page.

Joe's awesome. Easy to communicate with, excellent service, came at a convenient time for me on Saturday morning and gave me a better deal than some other people I contacted. Will use and recommend in the future!
– Chris Reid

Whether you live in Dunbar, Marpole, Kitsilano, Mount Pleasant, Burnaby Heights, Highgate, Johnson Heights, Newton, Lynn Valley, Deep Cove, Dundarave, Sapperton, Fort Langley, the Westwood Plateau, Terra Nova, Steveston, Crescent Beach, or anywhere else in Metro Vancouver, you have two choices when it comes to getting cash for clunkers…
1. You could do an online search for "scrap car removal", phone three or four of the most promising looking ones, give them a call and talk to them for a few minutes, or
2. You could simply call or text Joe at 604-779-6397 and see for yourself.
Either way, the chances are good that your final decision will be to go with Joe.
Hundreds of your friends and neighbours have already made that same smart choice.
Now, Joe looks forward to helping you solve your "how to get top dollar for my old junk vehicle" problem.
Why put it off any longer?