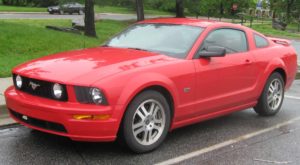 Today we towed away one of the nicest and most desirable scrap cars I have seen in a long time. It was a great looking 2001 red Mustang that was located in Burnaby not too far from Lougheed and Sperling. Now, when I say it was nice looking, what I really meant was it was nice looking in the rain when viewed from a certain angle. If you zoomed in for a closer look on its "bad side", you would see some kind of ugly body damage. Not enough to wreck the suspension and drive train, but bad enough so the body shop would ask you to really empty out your piggy bank to put it back looking new again.
But still, there is something special about Ford Mustangs. They always remind me of the '68 GT that Steve McQueen drove in those unforgettable car chase scenes in the movie Bullitt. And you know what? I'll bet you that after he got through bouncing up and down those hills in San Francisco, his suspension and drive train were probably ready for a tow truck. But I digress…
Scrap Car Removal Burnaby
Anyway, getting back to scrap car removal in Burnaby, I think the owner who got us to tow away his old, unwanted Mustang was pretty happy with the payment he received. That's the way it works with the vast majority of our customers. They have a problem, in the form of an automobile or truck they no longer love the way they once did back in the good old days. They are ready to pass it along to us for removal and recycling so they can clear up their driveway, or back lane, or wherever the clunker was taking up space and not looking all that decorative anymore.
So they pick up their phone and send us a text or give us a phone call – 604-779-6397 – and we make arrangements for a convenient time to come by with our tow truck and do what we do best – make people like you happy.
By the way, that picture of a red mustang at the top of this page is not the same one we picked up and towed away for our customer in Burnaby. We were going to take a shot of it hooked up behind our truck, but it was raining, and I'm ashamed to say our nice blue truck was in need of a good wash. So that's why you are looking at a pretty picture of a nice red mustang and not the one that needed body work that was hooked up to a muddy tow truck in the rain.
Although the photo above is only a dramatization, you can be sure that the cash we paid the real owner of the real Mustang was also very real.
So if you want cash for your clunker, if you want to get paid to have a junk car removed, if you want generous compensation in return for scrap vehicle towing and recycling, then you know what to do.
Give us a ring or shoot us a text to 604-779-6397 and we will solve your unwanted jalopy problem. Whether it's a Mustang, a Dodge Charger R/T like Bullitt was chasing, or any other vehicle.
And if it's not raining, and if our tow truck is as clean and shiny as it usually is, maybe we'll take a picture and put it on our web page.
Thanks for reading, and have a great Thanksgiving weekend.
So long from the folks you can trust for scrap car removal in Burnaby.